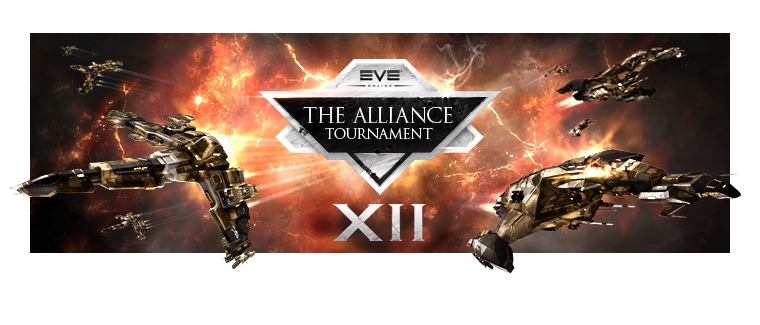 The Alliance Tournament
It is that time again! The alliances of New Eden are mustering their highly trained fleets and are flying ships out of their own hangars, risking everything for the glory and possible winnings in brutal matches where losses are felt dearly.
Alliance Tournament XII will be held over the course of four consecutive weekends starting on Saturday the 16th of August and ending with a grand finale on Sunday the 7th of September. We will again have a double elimination format this year and all of the action will be streamed live and for free on our CCP Games twitch channel! Subscribe to that channel to never miss a single second of Alliance Tournament XII.
Prizes
The prizes this year will be magnificent, as always. The alliance tournament ships this year are a cruiser named the Chameleon, and a frigate named the Whiptail. Further information about these ships will be reveled later.
This year we will also give all participants in the Alliance Tournament a medal to show their participation. That is not all, however. Further prizes will be revealed as we get closer to the tournament, but rest assured that we have heard your comments about the prize structure.
Participating teams
The 64 teams selected for entry into Alliance Tournament XII are listed below.
Dead Terrorists
Pasta Syndicate
Fidelas Constans
Feign Disorder
Triumvirate.
Affirmative.
SCUM.
Ushra'Khan
Choke Point
End of Life
THE R0NIN
WAFFLES.
Agony Empire
Monkeys with Guns.
The Afterlife.
The Devil's Warrior Alliance
Clockwork Pineapple
Red Vs. Blue
Test Alliance Please Ignore
Sleeper Social Club
Curatores Veritatis Alliance
HUN Reloaded
HYDRA RELOADED
Circle-Of-Two
The Camel Empire
No Holes Barred
Rote Kapelle
Quebec United Legions
Exodus.
CAStabouts
Nulli Secunda
Easily Excited
Noir. Mercenary Group
Cynosural Field Theory.
LowSechnaya Sholupen
The Gorgon Empire
Mortuus.
Moist.
M.I.F
The Nameless Alliance
The Tuskers Co.
Shadow Cartel
R.E.V.O.L.U.T.I.O.N
The G0dfathers
The Fourth District
Outbreak.
The Kadeshi
Tactical Narcotics Team
RAZOR Alliance
SOLAR FLEET
Ineluctable.
C0VEN
The Methodical Alliance
The Initiative.
Pandemic Legion
Ministry of Inappropriate Footwork
CODE.
Red Alliance
The Unthinkables
Disavowed.
A Nest of Vipers
Almost Awesome.
The Fearless Empire
Surely You're Joking