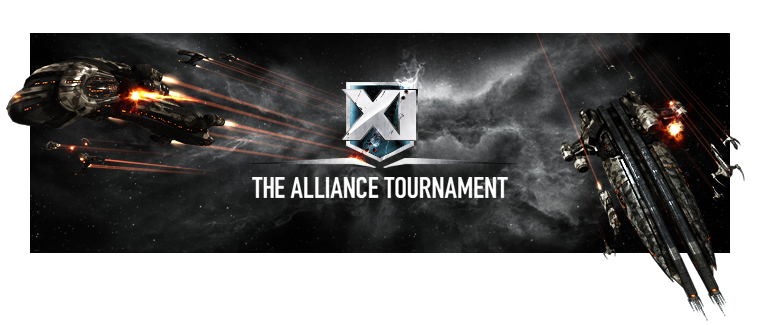 The Alliance Tournament
It's once again time for the alliances of New Eden to pit themselves against their peers in epic combat, flying ships out of their own hangars in team combat where every loss matters.
Alliance Tournament XI will take place over three consecutive weekends starting on Saturday, July 20th and ending with the grand finale on Sunday, August 4th. The action will follow a double elimination tournament format. AT XI will be streamed live and for free on our CCPGames twitch.tv page, so subscribe there to be updated instantly when the action starts!
Prizes
As usual there will be a prize ship BPC for the 1st place winner of AT XI with a different prize ship BPC for the 2nd place winner. Details about them will be revealed close to the tournament itself, because we love keeping you guys excited about these things.
Additionally, each of the top three placing teams will receive in-game medals. Gold for 1st place, silver for 2nd place and bronze for 3rd.
For all teams, as a participant in AT XI, your alliance will be immortalized on special in-game collectible cards that will be given out some time after the tournament, in the same style as the New Eden Open.
Finally, the winners of previous Alliance Tournaments haven't had their name engraved anywhere in the past and the Tournament Team did not feel that was acceptable. A special Alliance Tournament cup will be created, engraved with the name of each winning team for each of the past tournaments and then the winners of AT XI. This cup will be stored in the lobby at CCP headquarters and displayed at Fanfest and other fan gatherings.
Random Draw

The 32 teams selected for entry into Alliance Tournament XI by random draw are listed below.
Agony Empire
Angeli Mortis
Babylon 5..
Circle-Of-Two
Clockwork Pineapple
Confederation of xXPIZZAXx
DarkSide.
Darkness of Despair
Drunk ´N´ Disorderly
End Of Life
Exodus.
HUN Reloaded
HYDRA RELOADED
Late Night Alliance
Mildly Sober
Moist.
No Holes Barred
Outbreak.
Perihelion Alliance
R.E.V.O.L.U.T.I.O.N
RAZOR Alliance
Rainbow Dash Friends
SCUM.
Sadistica Alliance
Shadow Cartel
Synthetic Systems
Test Alliance please ignore
The Obsidian Front
Urine Alliance
WHY So Seri0Us
Wormhole Holders
YOUR VOTES DON'T COUNT
Silent Auction

The 32 teams listed below successfully bid for entry into Alliance Tournament XI in the silent auction.
CAStabouts
Choke Point
Curatores Veritatis Alliance
D3vil's Childr3n
Darkspawn.
Dead Terrorists
Exiled Ones
Goonswarm Federation
Heretic Initiative
JIHADASQUAD
Kill it With Fire
M.I.F.
Ministry of Inappropriate Footwork
Noir. Mercenary Group
Nulli Secunda
Of Sound Mind
Pandemic Legion
Quebec United Legions
Rote Kapelle
RvB - Blue Republic
Sicarius Draconis
Sleeper Social Club
Solar Fleet
Surely You're Joking
The Fourth District
The G0dfathers
The Initiative
The Kadeshi
The R0NIN
Transmission Lost
Verge Of Collapse
W-Space